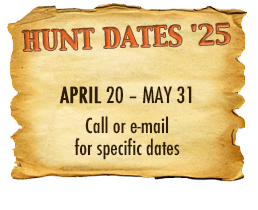 Spring Turkey
We hunt the spring gobblers on over 60,000 acres of private leases here in Northeast Wyoming. We also have access to country in South Dakota. This allows us to provide a two-bird hunt.
Our season runs the second Saturday in April through May 20. Hunts are three days for single-bird hunts and four days for two-bird hunts.
We assist with obtaining the licenses in Wyoming and South Dakota. Licenses will be here at the Lodge when you arrive in the Spring.
Over the past 25 years our hunters have had excellent success on long-bearded birds.
Our big leases hold excellent numbers of Merriams. Combined with little hunting pressure, this makes for excellent calling opportunities on mature gobblers.
2018 Spring turkey season was awesome! We had 82 turkey hunters and harvested 78 birds. 55 of these hunters chose the two-bird hunt. 48 of them harvested their second Merriam tom. Again, this year we had over 50 misses. We are seeing a lot of jakes and had another good hatch. We are looking forward to 2019.
The 2017 spring turkey season was exceptional! The weather conditions were pretty good most of the season and there were a lot of birds. We took a total of 88 hunters, 86 of whom harvested their Merriam Toms for a 98% harvest. However, we were 100% shooting. 38 of the hunters chose to do the two-bird hunt and 35 of the 38 harvested a second Merriam. The two-bird hunters were 37 of 38 shooting. In addition, there were 46 missed this year. We saw a lot of jakes again this spring and there were a lot of mature birds that made it through. 2018 and 2019 should be exceptional, also.
The 2016 spring turkey season was unseasonably warm and definitely not like any of our other spring turkey seasons. There were a lot of jakes around and we had another excellent hatch. (This makes 3 years in a row of good hatches. The future is looking awesome!) We took 72 clients and harvested 65 birds, making this a 90% harvest. 45 of these hunters chose to hunt the second bird and 30 of those hunters were successful in harvesting 2 Merriam toms. For the season, we were 93% shooting opportunity, including 30 misses affecting the overall success rate.
2015 was an excellent season until the last two hunts in May. Mother nature forgot it was Spring and it turned cold and snowy. We took 72 clients this year and 63 hunters harvested mature Merriam toms. This was 87% success rate. They were 68 for 72 shooting for a 94% opportunity over all. 32 of these hunters were on the 2-bird hunt, 17 of which harvested the second Merriam. We had 32 misses during this season, which definitely affected the success rate overall.