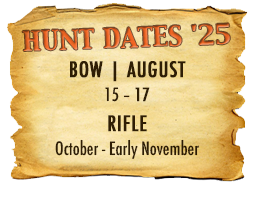 Antelope
Our antelope are hunted on approximately 120,000 acres of private leases in Wyoming. Over the years, our hunters have had very good success on trophy-quality antelope. Combined with the deer, this makes an excellent combination hunt.
We also offer straight antelope hunts with both bow and rifle. Our success on both the bow and rifle are over 95%.
Our bow hunts are offered August 15-17 and August 22-24. The method we use for hunting the antelope with a bow are blinds, set up over water holes. Bow hunters have excellent chances at Pope and Young quality antelope.
Our rifle antelope hunts are hunted through the month of October. These private-property hungs offer large numbers of antelope. Average bucks taken range from 13-14 inch goats. Every year, some B&C class animals are taken.
We offer a few hunts from Smith Lodge, however the majority of the antelope hunts are conducted from a motel as our lodge to too far from our antelope country.
During the 2017 season we took 14 antelope bow hunters and 10 of those harvested bucks. There were 22 rifle antelope hunters; 20 of them harvested bucks. However, we were 100% opportunity.
The 2016 season resulted in our 19 bow hunters harvesting 14 antelope bucks. We also took 20 rifle hunters who harvested 20 pronghorn bucks. We had 10 mule deer/antelope combo hunters who harvested 9 bucks.
In 2015 we had 12 antelope rifle hunters and we were 11 for 12 harvesting bucks. The largest was a 78 B&C. We also had 14 hunters that did the combo hunt; 12 harvested bucks. We took 14 hunters bow hunting and 9 harvested bucks. We were 12 for 14 shooting with 5 misses.
We took 16 straight antelope rifle hunters in 2014 and 15 harvested their bucks. All had 100% opportunity. 2 of the largest were 80-inch and 81-inch B&C. We also had 18 hunters that chose the combo hunt. Of the 18, 16 harvested antelope bucks. We also had 4 antelope bow hunters, all of which had opportunities and 3 killed bucks.