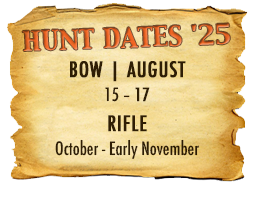 Antelope
Our antelope are hunted on approximately 120,000 acres of private leases and BLM permitted areas in Wyoming. Over the years, our hunters have had very good success on trophy-quality antelope. If you choose, you may combine with the deer, making this an excellent combination hunt.
We also offer straight antelope hunts with both bow and rifle. Our success on both the bow and rifle is over 95% opportunity. All antelope hunts are guided 3x1 or 2x1. 1x1 guided hunts are available for an additional fee.
We offer hunts in many areas that take 0-6 Antelope Preference points. These hunts offer a hunter opportunity at quality antelope. These hunts are offered from our lodge or motel.
Our bow hunts are offered August 15-17. The method we use for hunting the antelope with a bow are blinds, set up over water holes. Bow hunters have excellent chances at Pope and Young quality antelope.
Our rifle antelope hunts are hunted October through the early November.
During the 2022 season we hunted 9 antelope archery hunters and harvested 5 bucks. We took 32 antelope rifle hunters and harvested 28, with 100% opportunity.
In the 2021 season we hunted 2 antelope archery hunters and harvested 2 bucks. We had 36 rifle hunters and harvested 33, with 100% opportunity.
During the 2020 season we hunted 5 antelope archery hunters and harvested 5 bucks. In September and October, we hunted 32 rifle hunters and harvested 31 bucks, with 100% opportunity.
In the 2019 season we hunted 7 archery hunters and harvested 6 bucks. We hunted 26 rifle hunters and harvested 26 antelope bucks.
During the 2018 season we hunted 15 antelope bow hunters and harvested 8 bucks. We hunted 24 antelope rifle hunters and all harvested mature antelope bucks.