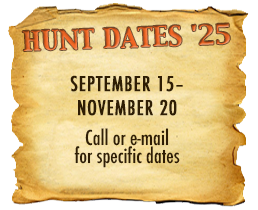 Mule Deer
We hunt our mule deer in Weston, Campbell, Crook, Johnson, Bighorn, and Sheridan counties in Wyoming. We lease over 215,000 acres of private property. These areas hold excellent numbers of trophy-class animals.
Rifle season runs October and November. Our hunts are fully guided five-day hunts, either 2x1 or 1x1. Because the areas we hunt are private and NFS permits, we use pickups, side-by-side ATVs, and horses to access country. Some of our country is extremely rough. Some of these areas require a lot of hiking and horseback riding. The better a hunter is able to get around physically will help during the hunt. We hunt mule deer spot and stalk.
Over 24 years our success rate has been 80% to 95%. Through the years we have averaged taking 2 to 6 bucks each season grossing over 180 B&C. Our average width on deer is 24 inches.
Our 2017 mule deer season went very well. Our 32 October hunters harvested 30 bucks, with a 32 for 32 shooting opportunity. The largest bucks taken were right at 180 B&C.
The 2016 mule deer season was quite successful. Our 35 October rifle hunters harvested 28 mature bucks; they were 31 for 35 shooting with a 100% opportunity. The biggest buck taken was a 182 B&C. We also took 10 mule deer in November; 7 of these harvested mature muley bucks.
The 2015 season was as good as we had hoped for. From what we saw in 2014, we felt we should have a good 2015 season, and we did! Our 34 October rifle hunters harvested 30 bucks for an 88% success rate. There was 100% opportunity. The 8 November rifle hunters harvested 7 bucks for an 87% rate with 100% opportunity. There were many good deer taken this year. The largest buck taken was a 185 B&C. The hunters harvested an additional 7 bucks over 180 B&C.
The license success for the non-resident draw, in the mule deer areas, has been 100% successful the last 15 years. The fee for a license is $389.00 or $677.00. License fees and dates are subject to change according to Wyoming Game and Fish. We assist all our hunters with the license application process.