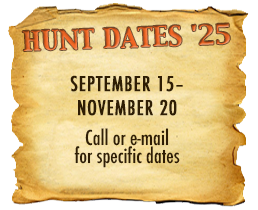 Mule Deer
We hunt our mule deer in Campbell, Crook, Johnson, Bighorn, Washakie, Sheridan, and Fremont counties in Wyoming. We lease over 215,000 acres of private property and large NFS and wilderness permits. These areas hold excellent numbers of trophy-class animals.
Rifle season runs mid-September through November. Our hunts are fully guided five-day hunts, either 2x1 or 1x1. We use pickups, side-by-side UTVs, ATVs, and horses to access country. Some of the private leases are accessed with pickups and side-by-side UTVs. Some of our country is extremely rough. Some of these areas require a lot of hiking and horseback riding. The better a hunter is able to get around physically will help during the hunt. The mule deer hunt is a classic spot-and-stalk hunting.
Over 30 years our success rate has been 80% to 95%. Through the years we have averaged taking 2 to 6 bucks each season grossing over 180 B&C. Our average width on deer is 24 inches and the average score is aound 155 B&C.
In the 2022 season we were very successful. Our 30 mule deer hunters harvested 25 bucks.
The 2021 season went well. We hunted 40 hunters and harvested 34 bucks.
In 2020 season, we took 38 hunters throughout October and November. They harvested 37 bucks.
Our 2019 mule deer season was exceptional! We took a total of 45 hunters in the months of October and November. These 45 hunters harvested 42 mule deer bucks. They enjoyed 100% opportunity.
The 2018 mule deer season was another very successful season. We hunted 30 mule deer hunters in October. 28 of them harvested mature mule deer bucks. They were 100% opportunity. We took an additional 8 mule deer hunters in November; all 8 were successful. The largest buck taken was a 191 B&C.
We assist all our hunters with the license application processes as well as the deer preference point purchases.