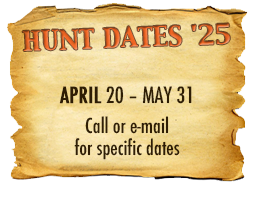 Spring Turkey
We hunt the spring gobblers on over 80,000 acres of private leases as sell as large national forest permit areas in the Black Hills of Northeast Wyoming and Northwest South Dakota.
Our season runs April 20 through May 31. Hunts are three days for single-bird hunts and four days for two-bird hunts.
We assist with obtaining the licenses in Wyoming and South Dakota. Licenses will be at the Lodge when you arrive in the Spring.
Over the past 29 years our hunters have had excellent success on long-bearded birds.
Our big leases hold excellent numbers of Merriams. Combined with little hunting pressure, this makes for excellent calling opportunities on mature gobblers.
Our 2021 season went well. Because of the virus and 2020 season rollover, we took in the most hunters we've ever had. 95 hunters harvested 88 birds in Wyoming. Hunters who chose to hunt the second bird in South Dakota were around 50% harvest. Throughout the season, we saw large numbers of jakes and are looking forward to the 2022 Spring season!
The 2020 season was a bit challenging. Due to the virus restrictions, we cancelled the April hunts and all April hunters were given the opportunity to move into 2021 or come in May. We were able to hunt 46 hunters in May. These hunters harvested 42 mature Merriam toms. 35 of these hunters were on the two-bird combo, and 28 of them were able to harvest the second bird.
The 2019 season had good success considering cold snowy conditions throughout most of the season. 88 hunters harvested 78 mature toms. 57 of the hunters chose to hunt the second bird; they harvested 41 toms. There were A LOT of missed birds this year, over 50. Although we had poor weather in May, it got better at the end of the month and we ended up with a tremendous hatch.
2018 spring turkey season was awesome! We had 82 turkey hunters and harvested 78 birds. 55 of these hunters chose the two-bird hunt. 48 of them harvested their second Merriam tom. Again, this year we had over 50 misses. We are seeing a lot of jakes and had another good hatch. We are looking forward to 2019.
The 2017 spring turkey season was exceptional! The weather conditions were pretty good most of the season and there were a lot of birds. We took a total of 88 hunters, 86 of whom harvested their Merriam Toms for a 98% harvest. However, we were 100% shooting. 38 of the hunters chose to do the two-bird hunt and 35 of the 38 harvested a second Merriam. The two-bird hunters were 37 of 38 shooting. In addition, there were 46 missed this year. We saw a lot of jakes again this spring and there were a lot of mature birds that made it through. 2018 and 2019 should be exceptional, also.